CROSSFIT SUFFOLK: Powered By SPARTAN PERFORMANCE
Katy
SLEEP AND TRAINING: THE ULTIMATE BALANCING ACT
A WARMUP YOU'LL ACTUALLY DO AND MAKES SENSE
Workout of the Day
CF Suffolk Striking
–OR–
35 minutes of:
800 meter run
3 rounds of:
3 pull-ups
3 Russain kettlebell swings 24/16kg
3 V-ups
400 meter run
3 rounds of:
5 pull-ups
5 Russain kettlebell swings
5 V-ups
Post your scores to the Whiteboard.
CROSSFIT STRIKING WORKSHOP   SUNDAY (THERE ARE STILL OPENINGS!)  8 AM- 5 PM       
The CrossFit Workshop: Striking is a single-day immersive experience that teaches participants how to increase overall fitness, core strength, rotational speed and power by incorporating striking drills into CrossFit workouts. Strikes are some of the most functional movements because punching and kicking with true power, speed and accuracy require people to utilize their entire body. This is why fighters are some of the most well-conditioned and powerful athletes in the world.
With this in mind, the Striking Workshop is designed to teach participants to incorporate basic mixed-martial-arts, boxing and self-protection striking concepts into workouts. The course also teaches attendees to program these skills into workouts for greater variance. All this is done in a non-contact format that focuses on proper technique by using shadow boxing, focus mitts, kick shields and a heavy bag.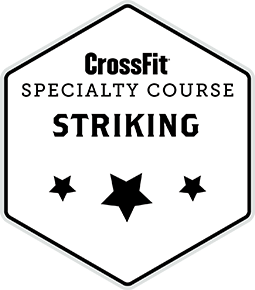 MobilityWOD PERFORMANCE WORKSHOP  MAY 6TH at CrossFit The Rock (Rockville Centre, NY)  The workshop is $349.00.
This in-person course relies heavily on the principles of breathing, bracing, and body positions as described in Dr. Kelly Starrett's book, Becoming a Supple Leopard, and the M|WOD 101 online course. Many coaches and athletes struggle to take some of the principles in the book or from the M|WOD 101 course and apply them to lifting with big loads. Many coaches and athletes also have difficulty understanding exactly where to look first when trying to solve a problem for an athlete and many times jump to different mobility exercises without first breaking down any issues in technique, set up, and bracing. Unfortunately, athletes many times are only concerned with finishing the task and not the quality of the task until it blows up in their face. Load is a very instructive tool and allows the coach to see errors as they develop that may not be apparent during bodyweight or lower weights while the athlete is warming up.
Travis Mash BS, USA Weightlifting Level 5 SPC, CPT, World Champion Powerlifter, ex- Nationally Ranked Weightlifter, Multi-Time Team USA Coach, and Coach of Team Mash Mafia Weightlifting and Powerlifting is teaching a "Learn To Lift" seminar in Brooklyn on June 23rd, 2018.  The course will be a one-day experience for beginning or advanced weightlifters, powerlifters, CrossFitters, or anyone who just wants to get jacked! The seminar will focus on the lifts of weightlifting (snatch, clean and jerk, and strength work to complement) The seminar will feature:
 Teaching the progressions of the lifts (snatch, clean and jerk, squat and accessory movements)
Recognizing and correcting faulty movement patterns
Dynamics of programming and how to implement
Techniques that will immediately increase any of the lifts
How it all ties together
The cost is $199.00.  Click HERE to register or for more information.  Travis Mash is well known and highly effective.  This is his only Northeast appearance so far.  If you're at all interested I would sign up for this one sooner not later.  One of our athletes did this class previously and it enhanced his Oly lifts dramatically.