CROSSFIT SUFFOLK: Powered By SPARTAN PERFORMANCE
It's with tremendous sadness that I report the news that Coach Lauren's mother, Jennifer Garone, lost her long battle with ALS.  ALS, amyotrophic lateral sclerosis, is a progressive neurodegenerative disease that affects nerve cells in the brain and the spinal cord.
Jennifer was a beloved grandmother, mother, and wife.  She was a friend of the CrossFit Suffolk community.  We had the opportunity to speak to Jennifer a couple of years back and among other things, she spoke about the love and admiration she had for Lauren and how proud she was of the daughter, wife, and mother Lauren was.  We have spoken to many parents about their children, both young and grown.  We have never heard a mother speak about a daughter with such love.  She spoke similarly about Andrew, Lauren's husband, and her grandchildren.
Although her condition visibly worsened in last few years, the limited time we spent with her we never heard her complain and she had a constant smile.
Dana has set up a memorial fund for Jennifer Garone.  Click HERE for further information or to make a donation.
ELEVATION MASKS JUST DON'T WORK  We get asked about this silly device every so often.
Workout of the Day
30 minutes of kip, pull-up and muscle-up skill work
NOTE: The CrossFit Open is rapidly approaching.  If you plan on competing in the RX division you will see muscle-ups.
CrossFit Open 16.3
Complete as many rounds and reps as possible in 7 minutes of:
10 power snatches
3 bar muscle-ups
Men use 75 lb.
Women use 55 lb.
Scaled (Scaled Men, Scaled Masters Men 40-44, Scaled Masters Men 45-49, Scaled Masters Men 50-54, Scaled Women, Scaled Masters Women 40-44, Scaled Masters Women 45-49, Scaled Masters Women 50-54)
Complete as many rounds and reps as possible in 7 minutes of:
10 power snatches
5 jumping chest-to-bar pull-ups
Men use 45 lb.
Women use 35 lb.
Masters (Masters Men 55-59, Masters Men 60+, Masters Women 55-59, Masters Women 60+)
Complete as many rounds and reps as possible in 7 minutes of:
10 power snatches
5 chest-to-bar pull-ups
Men use 65 lb.
Women use 45 lb.
Scaled Masters (Scaled Masters Men 55-59, Scaled Masters Men 60+, Scaled Masters Women 55-59, Scaled Masters Women 60+)
Complete as many rounds and reps as possible in 7 minutes of:
10 power snatches
5 jumping chest-to-bar pull-ups
Men use 45 lb.
Women use 35 lb.
Post your scores to the Whiteboard.
CROSSFIT STRIKING WORKSHOP  Sunday, February 11th.  8 AM- 5 PM       
The CrossFit Workshop: Striking is a single-day immersive experience that teaches participants how to increase overall fitness, core strength, rotational speed and power by incorporating striking drills into CrossFit workouts. Strikes are some of the most functional movements because punching and kicking with true power, speed and accuracy require people to utilize their entire body. This is why fighters are some of the most well-conditioned and powerful athletes in the world.
With this in mind, the Striking Workshop is designed to teach participants to incorporate basic mixed-martial-arts, boxing and self-protection striking concepts into workouts. The course also teaches attendees to program these skills into workouts for greater variance. All this is done in a non-contact format that focuses on proper technique by using shadow boxing, focus mitts, kick shields and a heavy bag.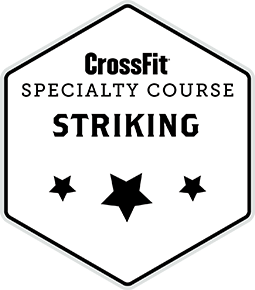 The CrossFit Open will begin on February 22nd.  The Open is an official CrossFit competition where competitors perform 5 workouts in 5 weeks.  The workouts will be done in our gym.  If you'd like to see how you stack up against the rest of the world than register in the link provided below.  If it's not your thing no problem.  We'll all be doing the Open workouts as part of our regularly scheduled training.  Being a registered competitor adds to the fun and excitement and competitors usually walk away with an improved performance just by being in the mix of competition.  What questions do you have?
FIVE WEEKS – FEB. 22-MARCH 26
18.1- Feb. 22-26
18.2- March 1-5
18.3- March 8-12
18.4- March 15-19
18.5- March 22-26
Registration for the Open begins Thursday, Jan. 11, 2018.
The Open is the first stage of the CrossFit Games season and the largest community event of the year. Every year, hundreds of thousands of athletes come together to compete in the worldwide, online competition.
Anyone aged 14 or older can compete. All you have to do is sign up at Games.CrossFit.com and log your score each week. Workouts are released on Thursdays at 5 p.m. PT, and athletes have four days to complete the workout for the week and submit their score. Scores are due before 5 p.m. PT the following Monday. Complete the workouts at a CrossFit affiliate with a judge, or film your effort from anywhere in the world and submit a link as proof.
The Open offers two versions of each workout, scaled and Rx'd. The scaled option makes the event all-inclusive. All athletes can compare their results to others worldwide, regionally, by age or within their own gyms. An official CrossFit Games app will be available in late January, which will focus on your own personal performance in the Open.
At the end of five weeks, the fittest move on to the next stages of competition: the Regionals and the Online Qualifier.
CROSSFIT JUDGES COURSE  If you've been training with us for at least one year please consider taking the CrossFit Online Judges Course.  We will need judges for 5 weeks of Open workouts.  We recommend the course to members who will not be competing, as well, because it is an education in movement standards.  There is a $10.00 fee to take the course.