CROSSFIT SUFFOLK  **  Forging Elite Fitness
"Michael"
Three rounds for time of:
Run 800 meters
50 Back Extensions
50 Sit-ups
Post time to comments.
Compare to 080916.
Courtesy of CrossFit.com:
Michael…[wmv][mov]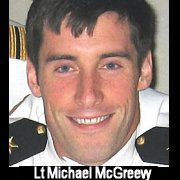 In honor of Navy Lieutenant Michael McGreevy, 30, of Portville, NY, who was killed in Afghanistan June 28 2005.
First posted 15 July 2005  (Courtesy of CrossFit.com)
Courtesy of NavySeals.com:

McGreevy
was part of a dedicated Naval Special Warfare team fighting the
Taliban, a fundamentalist regime that a U.S.-led coalition knocked from
power in Afghanistan in 2001, but has continued to conduct guerilla
operations, particularly along the Pakistan border. McGreevy worked to
help ensure al Qaeda terrorists could not train in, nor launch strikes
from Afghanistan since their lethal attack on the World Trade Center in
New York on September 11, 2001.
Michael McGreevy
graduated from the U.S. Naval Academy in 1997. A top athlete who ran
track, wrestled and played soccer, he gained early admission to the
Army's academy at West Point, but held out for a spot at the Naval
Academy.
Upon graduation, he began as a Surface Warfare
Officer, then went to BUD/S in late 1999, graduating as the Honor Man
of his class in 2000. McGreevy, known to his friends as "Groove," was
assigned to Africa after the war broke out in Iraq. He deployed to
Afghanistan in April 2005.
Michael McGreevy was one of
16 troops killed when a MH- 47 Chinook helicopter was shot down in
Afghanistan June 28, on a daring night mission to reinforce a four-man
SEAL reconnaissance squad that was ambushed in 10,000-foot mountainous
terrain.
McGreevy, seven other SEALs. and eight Army
Nightstalker" commandos, died in a heroic attempt to rescue their
fellow SEALs. LT Michael Murphy, Matthew Axelson, and Danny Dietz
fought on courageously, providing protective fire that enabled a fourth
squad member to escape before they were killed in the fierce firefight
by overwhelming Taliban forces.
A total of 11 SEALs
died that day in the Global War against Terror. It was the biggest
single loss of life for Naval Special Warfare forces since World War
II. To a man, these SEALs embodied the Navy's core values of Honor,
Courage and Commitment, and took care of their teammates to the end.
Michael McGreevy is remembered with the greatest respect and gratitude by his fellow SEALs, the Navy, and our nation.